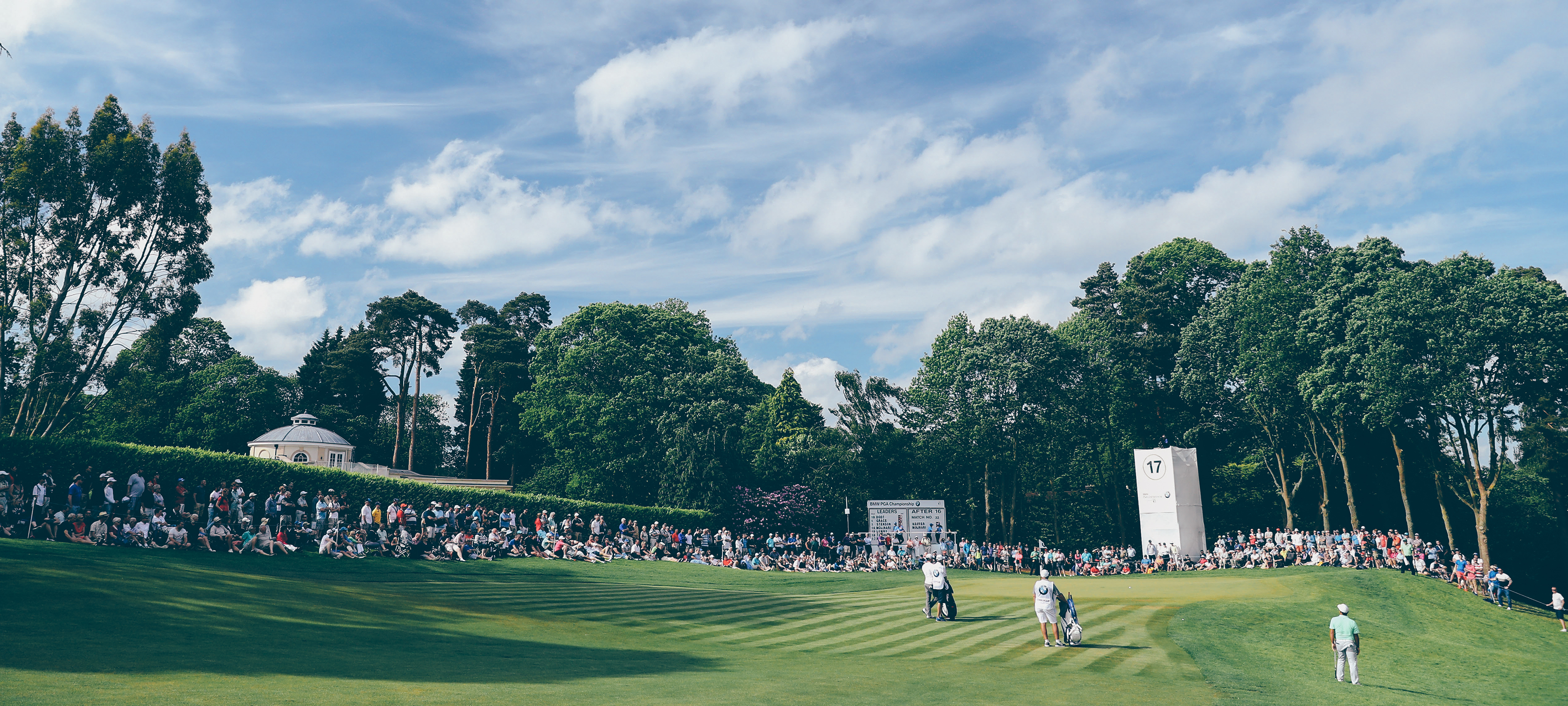 BMW PGA CHAMPIONSHIP.
19. – 22. September 2019. Wentworth Club, London.
BMW PGA CHAMPIONSHIP.
The Players' Flagship.
2019 ist der ehrwürdige Wentworth Club vor den Toren Londons Austragungsort der 65. BMW PGA Championship. Seit 2017 gehört das prestigeträchtige Event zur Rolex Series. Gespielt wird auf dem West Course, am Ende der Turnierwoche wird ein Preisgeld von insgesamt sieben Millionen US-Dollar ausgeschüttet. Bereits seit 2005 unterstützt BMW das Turnier als Partner und Namensgeber. Die BMW PGA Championship findet in der Saison 2018/19 vom 19. bis 22. September statt.

Read more
FRANCESCO MOLINARI.
Der Unbezwingbare.
Was war das für eine Saison 2018 für Francesco Molinari: Der Triumphzug von "Chicco" begann mit dem Sieg bei der BMW PGA Championship und endete mit dem Gewinn des "Race to Dubai" (als erster Italiener überhaupt) sowie der Wahl zum European Tour Player of the Year. Selten gab es einen so eindeutigen Preisträger: Er gewann sein erstes Turnier auf der PGA TOUR, bei der Open sein erstes Major und im Ryder Cup fünf von fünf möglichen Punkten. Auch in der aktuellen Saison knüpft Molinari nahtlos an diese Erfolge an, triumphierte beim Arnold Palmer Invitational und wurde Dritter bei der WGC-Dell Technologies Match Play. Man muss kein Prophet sein, um zu prognostizieren: Molinari hat bei der BMW PGA Championship beste Chancen, als erster Spieler seit Luke Donald 2012 seinen Titel erfolgreich zu verteidigen.
Read more
HIGHLIGHTS 2018.
Spannung bis zum Schluss und ein strahlender Sieger am Ende einer grandiosen Turnierwoche: Nachdem der Italiener Francesco Molinari bei den vergangenen sechs Auflagen fünf Mal eine Top-10-Platzierung erreicht hatte, war es nun endlich soweit. Mit zwei Punkten Vorsprung auf den viermaligen Major-Sieger Rory McIlroy sicherte er sich den ersehnten Turniersieg. 111.112 begeisterte Zuschauer verfolgten in dieser Woche das Spektakel.

Read more
CELEBRITY PRO-AM.
Am Mittwoch war die Turnierwoche mit dem Celebrity Pro-Am eröffnet worden. Neben Manchester-City-Coach Pep Guardiola griffen unter anderem auch die ehemaligen englischen Fußball-Nationalspieler Paul Scholes und Teddy Sheringham, Manchester-United-Torwartlegende Peter Schmeichel, Ex-Formel-1-Weltmeister Damon Hill, Popsänger Niall Horan (One Direction) sowie die Hollywood-Stars Damian Lewis (Homeland, Billions) und Jamie Dornan (Fifty Shades of Grey) zum Golfschläger.